Her finder du produkter designet til Skrædderknude
Skrædder knob skaber en ubehagelig og tydelig smerte på leddet, hvor den lille tå begynder. Når du har en skrædderknude, er det almindeligt at opleve smerte, når der er pres mod området. Det er også almindeligt, at begyndelsen af den lille tå er hævet og øm. Derfor kan det være besværligt med skrædderknuder, men her finder du produkter, der er designet til at lindre smerten og give mere komfort.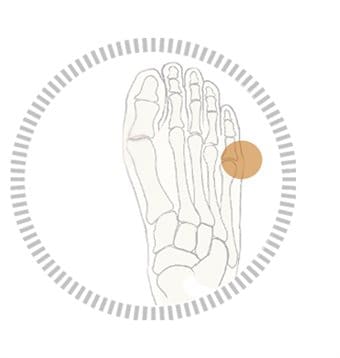 Hvad er skrædderknude?
Skrædderknuder også kaldet knyst og skrædder knyst  betyder, at en klump er dannet på den lille tå. Det vides ikke, hvorfor nogle mennesker lider af skræddersyede knuder, men det er almindeligt, at årsagen er arvelighed.
Men du kan have problemer med skrædderknuder, hvis du går, står og indlæser foden forkert. Hvis du indlæser ydersiden af foden, det gør storet toe ikke fungerer ordentligt, og du ubevidst undgå at belaste storetten. Hvilket betyder, at belastningen i stedet ender på ydersiden af foden, og den lille tå bliver overbelastet.
Skrædderknuder er et almindeligt fodproblem, ogde fleste af dem, der er berørt af skræddersyning, har også problemer med Hallux Valgus,men det kan også forekommeindividuelt.
Skrædderknude  i er karakteriseret ved en smerte eller hævelse på leddet, hvor den lille tå begynder. Smerten opstår i leddet på grund af betændelse i leddet – i den såkaldte bursa. Det er også almindeligt at se en bule på leddet og hævelse omkring leddet. Det er også almindeligt, at den lille tå vinkles indad mod de andre tæer.
Da den lille tå er vinklet, kan den danne hård hud på ydersiden af tort og også under tolerereren. De hård hud, der opstår i forbindelse med skrædderens knude, kan igen skabe mere ubehag, smerte og endda komplicere skrædderens knude.
Symptomer Skrædderknude
- Smertefuld klump, der sidder på ydersiden af den nederste del af den lille tå
- Den lille tå er snoet indad mod nærliggende tæer
- Smerte og ømhed i tåen, eller hvor tåen begynder
- Rød, hævet og varm lille tå
- Lilltån er betændt
For at lindre den smerte og hævelse, der opstår ved skrædderens knude, er det vigtigt, at du bærer rummelige sko, der minimerer risikoen for, at du lider af pres og gnir mod den lille tå. Du kan også bruge forskellige former for tåbeskyttelse, der lindrer det ømme område og beskytter den lille tå.
-Brug fodformede sko i, der er rummelige, der giver masser af plads til dine tæer. Det er også vigtigt, at toppen af skoene er designet i blødt, fleksibelt materiale, der ikke irriterer eller trykket mod tæerne. HER kan du se alle vores sko med en rummelig læse og med en rummelig tå kasse.  
-Brug forskellige tåbeskyttere, der hjælper med at lindre det ømme område. Du kan også bruge tåbeskytterne til at lindre problemer med andre tæer, der er opstået i forbindelse med hammer tåen. Her kan du se alle vores fodbeskyttere, der er designet til tæer.
-Hvis du har en præ-fod hvælving, skal du bruge skoindsatser. Det er almindeligt at have problemer med Hallux Valgus og sunkne pre-foot bue, når du har SkrædderknudeBåde Hallux Valgus og den sunkne forfodshvælving skaber en forskydning, der igen fører til skrædderknuder. Hvis du har Hallux Valugs eller sunkne forfodsbuer, kan du bruge anatomiske såler, der både løfter og lindrer dine fødder. Dette skaber en korrekt belastning og minimerer belastningen på den lille tå. HER kan du se såler og skoindsatser med pelotte, der løfter og lindrer ved skrædderknuder.
54 produkter
Du har set 54 ud af 54 produkter